Balancing Homeschooling with Work
Since last March, everyone at Gemstone has had to work a little harder to balance their work with personal responsibilities. For those of our Gems who are parents, that challenge has been particularly daunting. Being thrown in and out of homeschooling, balancing meetings with childcare, and still trying to keep up with our rapid pace of growth at Gemstone this year has been a true feat.
From the Classroom to the Conference Room
Despite being at home, many parents have felt like they are running back and forth between different buildings. Dalinda, one of our support desk analysts, finds herself drawn from work to kindergarten classes and back again throughout the day. As a result, she has had to get in the routine of prepping everything for her daughter's class before it begins, allowing her to get straight into her workday. Other Gem parents have been following that same routine, prepping anything from lunches to activities the day before to minimize distractions.
For older kids, the story is different. It's not schoolwork that has been difficult; it's trying to entertain older kids who just want to socialize and do their normal after-school activities. Some parents have made a few concessions to help their older kids and teens feel connected and happy, like being extra lenient with screen time.
Careful scheduling is another way Gem parents are making room for everything in their busier-than-ever lives. Chioma, a support desk analyst at Gemstone, makes time for the most important work activities first thing in the morning. That way, if she gets busy with the kids later, the most pressing tasks are already done and everything else can wait until the evening. Nisha, a junior developer here at Gemstone, has scheduled certain times for school, work, activities, and exercise, allowing her to focus on one thing at a time.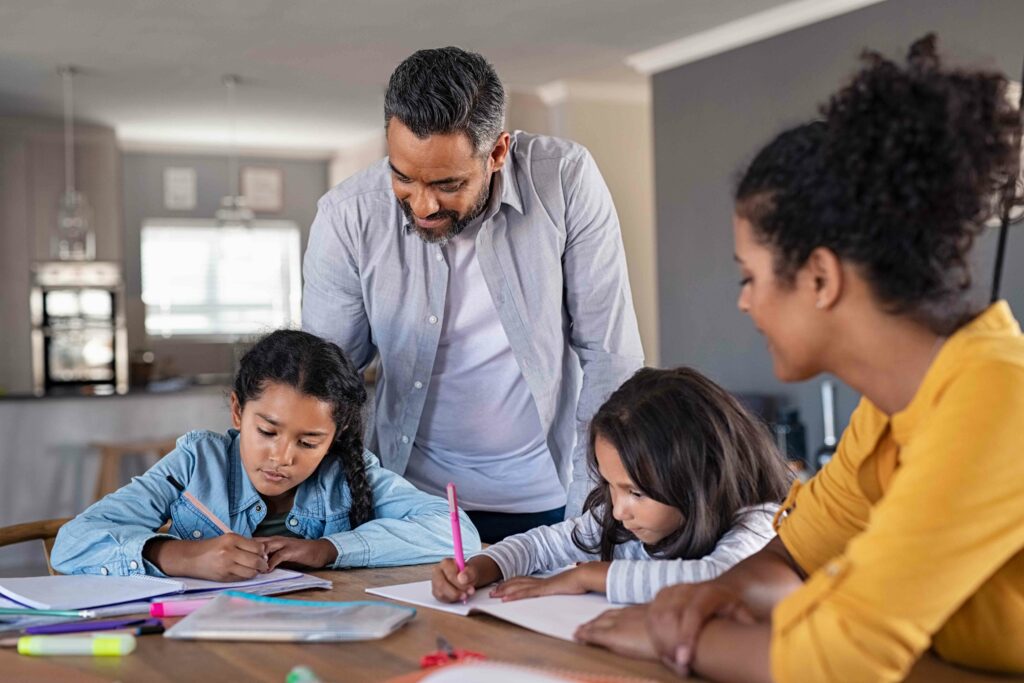 Rachelle on Working from Home with Kids
Rachelle is one Gem who has been navigating a challenging work-from-home situation from the beginning. Rachelle's family has had to be extra cautious due to her asthma, which has led to plenty of time spent at home.
When schools closed in March of last year, Rachelle was suddenly a homeschool teacher in addition to being an implementation coordinator at Gemstone. Since schools were not prepared for the shutdown, there was very little guidance and the educational materials being used were outdated and hard to follow. Rachelle describes those early months as "having three kids sitting beside me as I was working and trying to get them to complete a PDF multiplication table from 1981."
Luckily, September to April has been simpler. Although Rachelle's kids continued their schooling from home, teachers, parents, and kids alike were more prepared this time around. Interactive online classrooms have given Rachelle a bit more breathing room and the ability to balance her workday. The biggest challenge has been making sure the kids stay engaged and present – after all, the teacher can't see what they are up to and there are plenty of distractions!
Over the past year, Rachelle and her family have picked up on ways to stay sane and continue to be team players, even while they spend all of their time together. This was a challenge in the colder winter months, but they managed it by turning on some great dance tunes and having dance parties in the kitchen. As the weather improves, getting outside for physical activities regularly has been easier. In fact, Rachelle has even planned out times for recess. One of her kids will occasionally slip her a note during a meeting to ask if they can go outside for recess.
Making the Best of It
Although COVID has required some sacrifices, major changes, and extra challenges, the Gemstone Logistics team has been very adaptable. Until we return to normal activities, everyone is doing the best they can in a strange time. We are proud of how our team has been able to step up over this incredibly busy year and continue to develop personally and professionally!